Arriving to Ezeiza Buenos Aires Airport
Immigration
When you arrive to Ezeiza Buenos Aires airport, you'll see 2 immigration lines when you exit the plane. One line is for passengers who have Argentina passports and the other line, usually longer, is for foreigners. It depends on the day and time of arrival, but you may have to wait about 45min or less to get your passport checked and stamped.
Picking up your bags
Once you go through immigrations, you'll have a short walk to the conveyor belt to pick up your bags. There are free carts available if you need one. There are also lockers to store bags for a few hours or days in the arrival terminal A.
Exiting the baggage claim area
Once you get your bags, you'll walk through customs and exit the baggage claim area. You'll then see a few booths of shuttle and taxi services and money exchange services. These are reliable but expensive. Check our Transportation from Ezeiza Airport section for advice on how to get to your destination in Buenos Aires.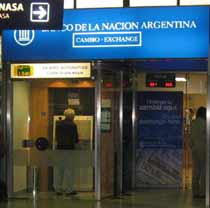 Money exchange
The best exchange rates are usually found at the bank in the airport. As soon as you exit the glass doors from the baggage claim area, take a right and keep walking all the way to the back and you'll see the Banco de la Nacion Argentina sign. There are also other money exchange booths and ATM machines.
Eating and shopping
There are several restaurants and a few shops to buy souvenirs, wine and even the famous Argentinean meat packaged for your trip. There is also a very nice duty-free shop available in the arrival and departure terminals. A pharmacy is located in the arrival and departure terminals.
Information desks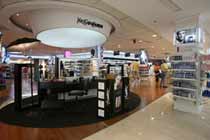 There is one information desk located on the ground floor of Terminal A Arrivals and it is open 24 hours. There is also another one on the ground floor of Terminal B and it is open from 0530 until the last flight. Courtesy telephones are situated around the terminal to call the information desk. The Ezeiza Buenos Aires airport also has a 24-hour information line (011) 5480 6111. Tourist information desks are located in Terminal A Arrivals and in the baggage reclaim hall of Terminal B Arrivals.
VIP Lounges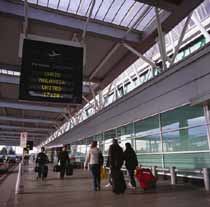 The Ezeiza Buenos Aires airport has VIP Lounges on the first floor of Terminal B Departures (after security) and on the ground floor of Terminal A Arrivals (after security); these are pre-bookable (tel: (011) 5480 2588) and are for business-class passengers of various airlines and club members only. VIP members can use the check-in facilities, bar and relaxation room, take a shower, access the Internet, watch TV and use the telephone and fax facilities. There is also an American Express Centurion Lounge which is available to all American Express credit card holders.
Facilities for Disabled Travellers
The Ezeiza Buenos Aires airport is equipped with ramps and lifts throughout the airport and there are specially adapted bathrooms, toilets and telephones. Telephones for the hearing impaired are also available. Disabled parking is available.
Hotels
The Ezeiza Buenos Aires airport has no hotels. You'll have to travel to Buenos Aires to find accommodation.
Departing Ezeiza from Buenos Aires airport
You'll have to pay an airport tax of US$ 18 when leaving Argentina via the Ezeiza Buenos Aires airport. Airlines have recently started including this fee in the ticket so you may not have to stand in line to pay it.
Transportation from Ezeiza Buenos Aires Airport